---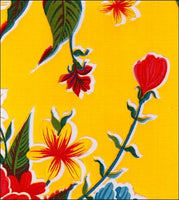 Our Hawaii Yellow print now available in 55" width!
100% Genuine Oilcloth Durable, Weatherproof, Washable.
Wipe Clean With Soapy Sponge!
By The Wide Yard- 55" Wide $15.99
PLEASE NOTE UPS charges and additional handling fee for all orders over 48" wide. Please select one Additional Handling fee per order when placing your order. This can be found in the pulldown menu, right here in this listing.